Extending Knowledge; Transforming Practice
The Journal of Family Nursing is owned by SAGE Publishing. The first issue of this quarterly journal began in February 1995.  Janice M. Bell, RN, PhD, (University of Calgary) is the Founding Editor of this journal. 2022 marked the 28th anniversary of the journal.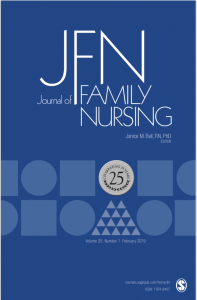 The Journal of Family Nursing (JFN) is a peer-reviewed journal that publishes scholarly work on research, practice, education, and policy issues related to families in health and illness. The mission of the journal is to extend understanding about the relationships between families, health, illness, and health care with a goal of transforming practice with families by nurses and other helping professionals. Papers will be selected for their scientific merit and creative treatment of significant issues in the field. A compelling argument for how the paper significantly extends knowledge about a particular population of families and/or the care offered to families is a central requirement. Priority will be given to papers that focus on family interventions and knowledge transfer or knowledge translation of family nursing theory to practice settings. Interprofessional perspectives are encouraged, as are international contributions.
The JFN received its first Impact Factor in the Thomson-Reuters Scientific Journal Citation Reports 2007.  JFN has a 2022 Impact Factor of 3.1 and is ranked Nursing (SCIE) 17 out of 125 | Nursing (SSCI) 17 out of 123 | Family Studies 12 out of 46 (Source: Journal Citation Reports, Web of Science Group, 2023).
One of the objectives of the journal is to establish a forum in which practitioners, educators, and researchers in various clinical specialties and disciplines can extend the lively debate and begin a more critical dialogue to grow knowledge about the family in health and illness and transform family focused health care.
Author Guidelines are available on the JFN website.