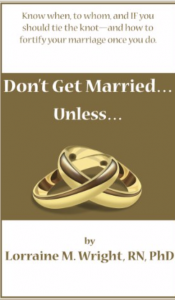 Please join me in congratulating Lorraine Wright on her NEW BOOK about marriage, based on her therapeutic conversations with couples over many years:  "Don't Get Married…Unless: Know When, to Whom and IF You Should Tie the Knot–and How to Fortify Your Marriage Once You Do". Copies of the book are available through Amazon.com, 4th Floor Press, or directly from Lorraine Wright. A Kindle edition is also available.
Here's my review of this book:
Dr. Lorraine Wright seems to have found her stride with ease in her first effort at writing a self-help book! It surely is a tribute to marriage and the sacred power of the marital relationship. The book is  pithy, humorous, credible, and even outrageous as only Jim Wright's daughter could be!  Lorraine doesn't mince words, e.g., "…most people considering marriage are just too underdeveloped, too selfish, too self-absorbed, too self-centred, or just too immature for the gargantuan task of sharing their lives with an equal partner" (p. 10).  What makes her seasoned recommendations and identification of "goofy" beliefs even more believable is the research she cites and the clinical exemplars from her extensive work with couples beautifully woven throughout. The Frank Pittman epigrams were an excellent choice!  In fact, after reading a tribute to him in the recent Psychotherapy Networker, there are a lot of similarities between his bravery to speak his truth about intimate relationships and Lorraine's bold and assertive writing style and tone in this book. I also loved the resources Lorraine included in this book: the sidebars in Chapter 9 and the reading list and "marriage movies" included at the back of the book. I also appreciated the shout out to her "Canadian and international friends" including my husband, Curtis and me, and also recognizing me as one of her professional colleagues. Congratulations to my dear friend and colleague, Lorraine Wright, for another wonderful contribution to family health and healing that I hope will challenge the core beliefs of many individuals and couples about marriage.
P.S.  I am placing an immediate order for 20 copies as I know of several young adults and personal friends who will be receiving this book as a birthday gift, engagement gift, graduation gift, wedding gift, baby gift, or just a "Please, please read this" gift!
Watch a short clip from a recent TV interview in which Lorraine offers her "hot tips" about marriage: http://www.btcalgary.ca/videos/3027631465001/ .  (The sound on the videoclip fades into silence and then returns, so please be patient).