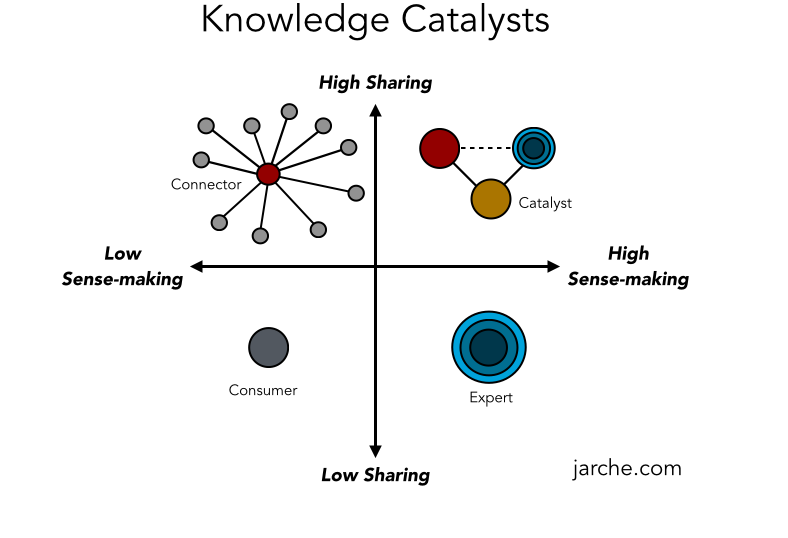 I read an interesting blog post recently by Harold Jarche, a Canadian teacher and consultant to individuals and organizations who focuses on "workplace transformation for the network era." He challenges individuals and leaders in social networks to be MORE THAN passive users of knowledge but learn how to become a "knowledge catalyst"–someone who goes beyond just sharing information to "filtering, curating, thinking, and doing – in conjunction with others." He calls for more interdisplinary conversations–an idea that fits so well with those of us in health care–and family health care to be specific:
"Good knowledge catalysts have diverse knowledge networks from which to seek knowledge. These networks are part of their filters. Catalysts also share, adding value through processes such as curation. In addition, and most importantly, they are catalysts in creating and doing something new" (Jarche, blogpost, Knowledge catalysts, 2015-05-11).
A knowledge catalyst, according to Jarche, values collaboration with others in the generation of new knowledge.  This is where the axes in the diagram (see above) intersect to produce both high sharing and high sense-making.
In a more recent blogpost, Jarche denounces the "clicksperts"–those who are just using social media to pass information along. He calls for more responsibility by knowledge catalysts to add value by creating, connecting, and collaborating with others and showing commitment to a community of learners in a particular area of knowledge:
"Professional and enterprise social networks are becoming the norm. We have passed the initial infatuation stage with social media and more people are using these media to get things done, solve problems, make connections, and improve their creativity. However, each community member has to have effective sense-making processes, or social networks are nothing more than noise amplification."
"Adding value to information is an important aspect of online communities, where more of us connect for professional development. Active community members ensure that environmental scans are done, connect and converse with other members, commit to ongoing questioning, make suggestions, and help to develop new information tools (e.g. checklists). Knowledge catalysts also help to organize peer-to-peer events that are important to maintain the community" (Jarche, blogpost, Knowledge catalysts add value, 2016-06-09).
In my subject area of Family Health and Healing, here is a beginning list of colleagues whom I consider to be using social media as "knowledge catalysts"–adding value to the knowledge that they have and share (Jarche, blogpost, The world needs knowledge catalysts,2017-05-28):
Lorraine M. Wright, RN, PhD: website: http://www.lorrainewright.com; Twitter: https://twitter.com/drlorwright
Barry J. Jacobs, PsyD: website:  http://www.emotionalsurvivalguide.com/about.htm; Twitter: https://twitter.com/drbarryjjacobs
Wendy Looman, PhD, APRN, CNP: website: https://www.nursing.umn.edu/bio/faculty-staff/wendy-looman; Twitter:https://twitter.com/looma003
Joel G. Anderson, PhD, CHTP: website: https://joelganderson.wordpress.com/about/; Twitter: https://twitter.com/joelandersonphd
Simon R. Stones, BSc (Hons), AMRSB: website: https://simonstones.com; Twitter: https://twitter.com/simonrstones
Wilma Schroeder, RN, BN, MMFT:  website: https://wilmaschroeder.com; Twitter: https://twitter.com/wschroedermmft