Dr. Lorraine Wright and I are pleased to announce that we have accepted an invitation to offer a 4-day Family Externship workshop at Zurich University of Applied Sciences (ZHAW) from July 5-8, 2022. 
This will be the 6th time we have been invited to offer a Family Externship at ZHAW. We were able to virtually offer a shorter version of our Family Externship workshop in October 2020 during the COVID-19 pandemic.
We are very grateful to Barbara Preusse Bleuler and her team of colleagues at ZHAW for this kind invitation. We are eagerly looking forward to seeing the new Family Systems Care Unit they have developed to advance the practice, education, and research of family nursing at ZHAW: See the announcement below, published in the Journal of Family Nursing about the new Unit (see screenshot below: https://journals.sagepub.com/doi/pdf/10.1177/1074840721997806)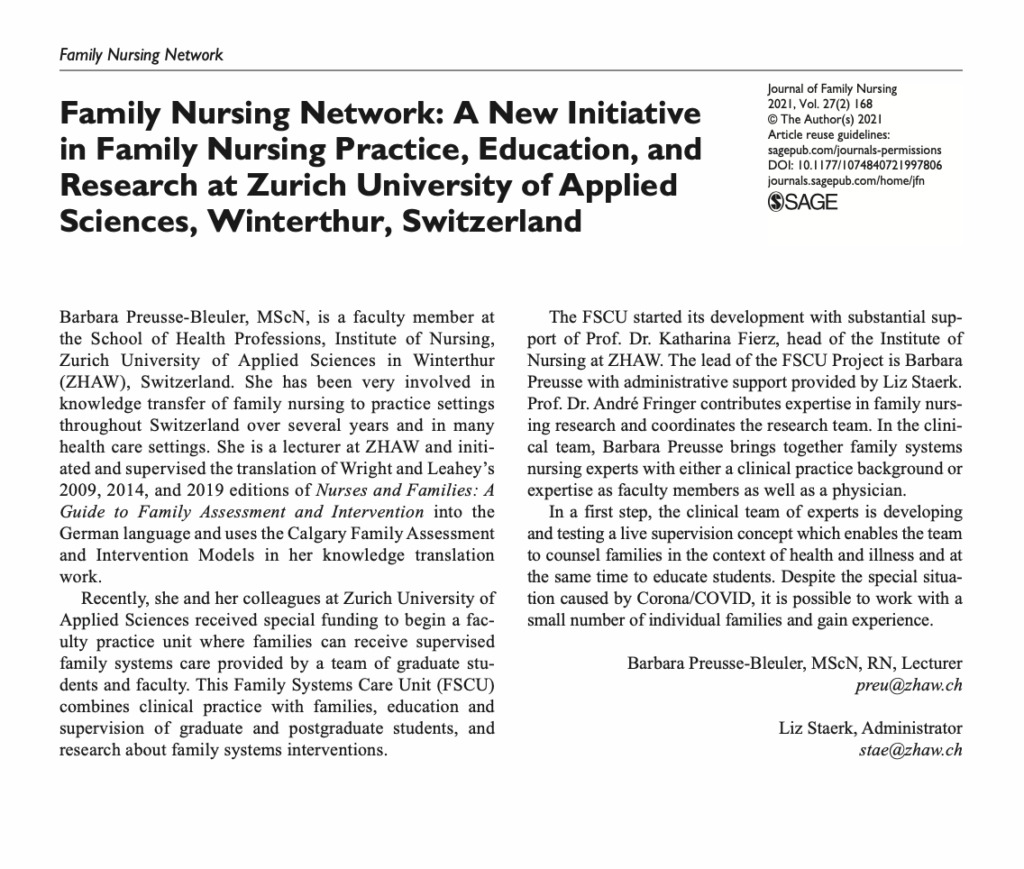 Please save the date! More details will follow.
+++++++++++++++++++++++++++++++++++++++++++++++++++++++++++++++++++++
The content below is a description of the 2020 Family Externship and will be updated when more information is available about the 2022 Family Externship.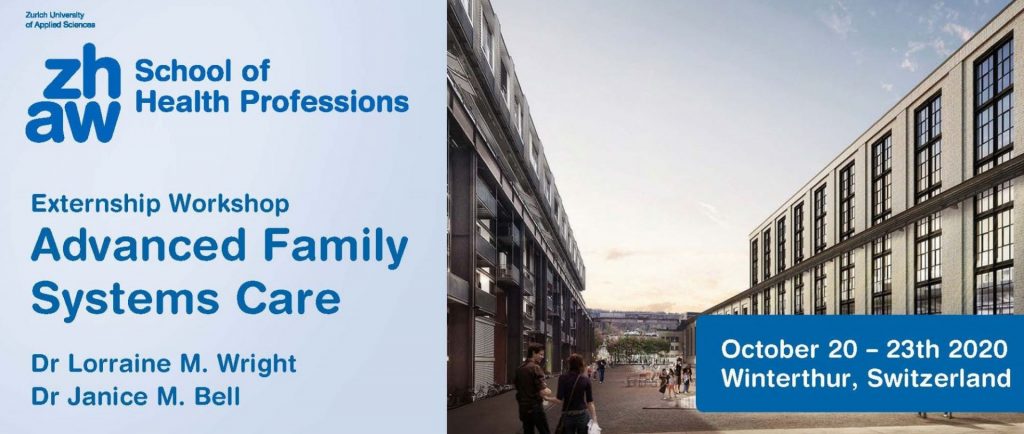 #FamilyExternship2020 in Switzerland
RESCHEDULED due to COVID-19 pandemic: New date now October 20-23, 2020
Do you have a passion for assisting families experiencing serious illness?  Would you like to learn how to address and soften illness suffering and promote healing in individuals and families?
Join us for a memorable 4-day Family Externship workshop.
Where: Zurich University of Applied Sciences in beautiful Winterthur, Switzerland (20 minutes by train from Zurich)
When: October 20-23, 2020 (register here)
Workshop description: Externship-workhsop-advanced-family-systems-care-zhaw-gesundheit
Due to the Coronavirus disease (COVID-19), the Family Externship will now be offered from October 20-23, 2020. We are extremely pleased that Dr Lorraine Wright and Dr Janice Bell are willing to reschedule the 5thAdvanced Family Systems Care sponsored by ZHAW at Winterthur, Switzerland.  This Family Externship is even more timely for dedicated health professionals.  The main emphasis of this learning opportunity will be to present their clinical models of how to soften illness suffering and promote family health and healing.  However, Drs Wright & Bell will also give special attention to how the Coronavirus has impacted and/or influenced (directly or indirectly) families and health professionals. This unprecedented pandemic has touched us all and we are hopeful that the context of this Externship will provide useful ideas for diminishing suffering, particularly at the psychosocial level, so that health and healing may be enhanced.
The "Family Systems Care" that will be presented will be guided by the Illness Beliefs Model and the Trinity Model that we have developed.
Nurses and all health care practitioners, educators, and researchers are welcome to attend. In addition to linking the theory of family assessment and intervention to exemplars from our practice and research, we will also conduct a demonstration family interview with a local family suffering with serious illness.
We have offered this Family Externship workshop experience throughout the world and this will be our 5th Family Externship in Switzerland.  Come and be part of this learning experience together.
Please share this Family Externship workshop announcement with your colleagues and through your social media channels. Suggested hashtags: #FamilyExternship2020 #familynursing #familyhealth #familyhealing #FamilySystemsCare